El Paseo (Alegrias)by Paco Pena (1942-)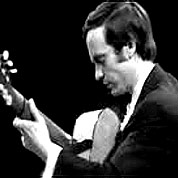 Paco Peña is a Spanish flamenco guitarist. He is regarded as one of the world's foremost traditional Flamenco players. Pena began performing throughout Spain with a government-sponsored folk music and dance program where Peña established himself as a highly-regarded accompanist to Flamenco dance and singing.


Notes
Algerias is a Spainish word that means festivities, joyfulness, happiness, and all of these are part of this form of singing, dancing, and guitar playing. Alegrias comprise many variations and the dance form has several parts; this piece is only a very small sample, to initiate you into the style.
Flamenco. 28 Measures. 2 Pages. Time Signature 3/4. Key of A Major. Easy Guitar Piece. Rasgueado with index.