Eine Kleine Nachtmusik In G by Wolfgang Amadeus Mozart (1756-1791)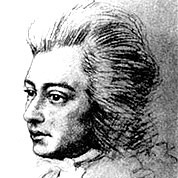 Wolfgang Amadeus Mozart was a prolific and influential composer of the Classical era. He composed over 600 works, many acknowledged as pinnacles of symphonic, concertante, chamber, piano, operatic, and choral music. He is among the most timeless classical composers.



Notes
The Serenade No. 13 for strings in G major, K. 525 was written by Wolfgang Amadeus Mozart in 1787. The work is more commonly known by the title Eine kleine Nachtmusik. The German title means "a little serenade," though it is often rendered more literally but less accurately as "a little night music." The work is written for a chamber ensemble of two violins, viola, and cello with optional double bass, but is often performed by string orchestras.
Romantic. 29 Measures. 3 Pages. 4/4 Time Signature. Key of G.