Ecossaise by Mauro Giuliani (1781-1829)
Grade 1– Beginner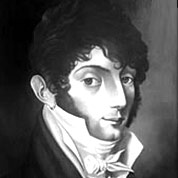 Mauro Giuliani was an italian guitarist and composer, and is considered by many to be one of the leading guitarist virtuosos of the early nineteenth century. He was a prolific composer, writing over 150 pieces for the guitar, as well as many chamber compositions for the violin, voice, flute, piano, and chamber orchestra.



Notes
The écossaise is a variety of contredance in a Scottish style, especially popular in France and England at the end of the 18th century and at the beginning of the 19th. The ecossaise was usually danced in 2/4 time. 16 Bars. AABA. Play Part A twice the proceed to play Part B twice. No barre Chords. Play at moderate Tempo. Mauro Giuliani's Ecossaise is ideal for beginners letting you get familiarize with the fretboard.