E Minor at Midnight by Fernando Sor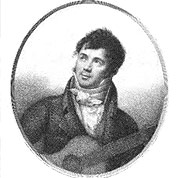 Fernando Sor was a Spanish classical guitarist and composer. He is best known for his guitar compositions, but he also composed music for opera and ballet, earning acclaim for his ballet titled Cendrillon. Sor's works for guitar range from pieces for advanced players, such as Variations on a Theme of Mozart, to beginner pieces.



Notes
A slow and fairly easy song. 16 Bars. A single barred chord at the end on the second fret. Note the time indicator at the bottom, it is broken down into semi quavers (1e&a, 2e&a etc…) or I was once taught co-ca-co-la. E minor at Midnight has notes sparse in nature, suspend the bass in every measure to add texture.