Duas Contas Original by Garoto (1915-1955)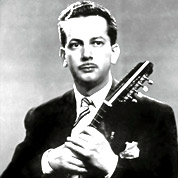 Garoto, (Portuguese for "The Kid") started young with the banjo. At the age of 18 he received lessons in classical guitar from Attilio Bernardini.
In 1930, Garoto recorded his first solo record with his own compositions. In 1939, he traveled to the USA with Carmen Miranda and the Banda da Lua and was on stage with American greats such as Duke Ellington or Art Tatum. Despite his early death at the age of 39, he had a great influence on the development of Brazilian music. Garoto's guitar compositions was not released until 1990 by a Brazilian guitarist Paulo Bellinati who rediscovered, transcribed, and recorded the music of Garoto in 1990.




Notes
In 1952 he founded with Fafá Lemos and Chiquinho do Acordeon the Trio Surdina. In 1953 they made their first record with the recording of Duas Contas (text and music by Garoto, voice and violin by Fafá Lemos)
Bossa Nova. 45 Measures. 4 Pages. Time Signature. 2/4. Standard Tuning. Key of E. Transcribed by Paulo Bellinati
Guitar Pro Walkthru