Domino by Louis Ferrari (1910-1988)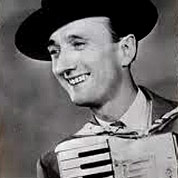 Louis Ferrari was an Italian musette accordionist and composer who was active in France beginning in the 1930s. He established the Ferrari & Son Ensemble which played in Parisian clubs. Louis Ferrari was the cousin of Tony Muréna.


Notes
20th century. Originally for Accordion. Time signature 3/4. 90 measures. 4 pages. Key of a minor.