Deep River Blues by Doc Watson (1923-)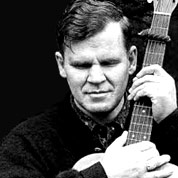 Arthel Lane "Doc" Watson is an American guitar player, songwriter and singer of bluegrass, folk, country, blues and gospel music. He has won 7 Grammy awards as well as a Grammy Lifetime Achievement Award. Watson's flatpicking skills and knowledge of traditional American music are highly regarded.


Notes
20th century. Fingerstyle. Acoustic. 20 Measures. 2 Pages. Time Signature 4/4. Standard Tuning.