Danza Caracteristica by Leo Brouwer (1939)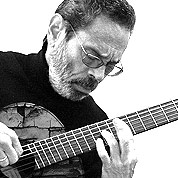 Juan Leovigildo Brouwer Mezquida is a Cuban composer, conductor and guitarist. He is the grandson of Cuban composer Ernestina Lecuona Casado. Brouwer is best known for his performances and guitar compositions of modern music.



Notes
Modern.84 Measures. 6 Page. Time Signature 2/4. key of D. Drop D.
Guitar Demo (Thu Le)