Clair de Lune by Claude Debussy (1862-1918)
Level Beginner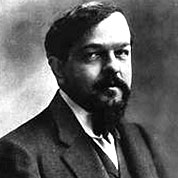 Claude-Achille Debussy was a French composer. Along with Maurice Ravel, he was one of the most prominent figures working within the field of impressionist music. The Suite bergamasque is one of the most famous piano suites by Claude Debussy. Debussy commenced the suite in 1890 at age 28, but he did not finish or publish it until 1905, when he was 43.



Notes
27 Measures, Triplets, Play Slow and Freely. Key of C. Few Barre Chords. Easy Guitar Piece. Romantic Era.
Other Arrangements
Clair de Lune Arranged by B. Mermikides
Clair de Lune Arranged by J. Edwards