Choros No 1 by Heitor Villa-Lobos (1887-1959)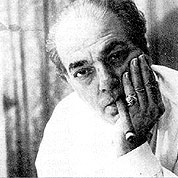 Heitor Villa-Lobos was a Brazilian composer, described as "the single most significant creative figure in 20th-century Brazilian art music". Villa-Lobos has become the best-known and most significant Latin American composer. His music was influenced by both Brazilian folk music and by stylistic elements from the European classical tradition.



Notes
Villa-Lobos composed his fourteen Choros for a variety of performing media. This is Choros No 1. Modern. 63 Measures. 5 Pages. Time Signature 2/4.
Guitar Demo
Tips
David Russell plays in the video above. In the B section (mm. 48) he adds a short glissando starting at the 3rd fret on high E and slides into the A making for a smooth segue. Cool effect, and tasteful.
Another thing to look at is fingerings. If something seems like it is too much trouble to play, there is very well likely an easier way. Example: Measure 41, David Russell plays this figure from the 3rd position rather than the 5th (but that is HIS preference). Playing it from 5th position is fine, but it's easier to play that G in the second beat as an open string. This not only allows for a shorter bar (less tension), but also gives you much more time to move your left hand down to the E on the "D string" (second fret, second finger) which leaves you set up nicely for the next measure. Do this rather than "dive-bombing" there, which presents a much much bigger chance to make a mistake.