Chorale by Johann Sebastian Bach (1685-1750)
Grade 3-Intermediate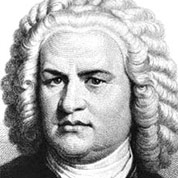 Johann Sebastian Bach was a German composer, organist, harpsichordist, violist, and violinist whose sacred and secular works for choir, orchestra, and solo instruments drew together the strands of the Baroque period and brought it to its ultimate maturity.



Notes
Chorale is a hymn with a strong harmonization and is a very good F Major study. Think of a choir in a church. Chorale music is a common theme for wedding. This Chorale is fairly easy to play as the tempo is slow and there are not too many barre chords. Perhaps after you have mastered this song, you may want to check out a technically more challenging Chorale by Bach. The song is "Jesu, Joy of Man's Desiring" and I have covered in my previous article.
This Chorale is played song is play AABB in a moderate pace. The harder part is Bar 6 which has a couple of finger stretches on far apart strings. Otherwise this song is one of Bach's easier songs. Not too long. 16 Bars in total with 3 Barred chords. Bass must be suspended at all times. If you find the multiple finger plucking confusing, strum the chords with you thumb. Sweep thumbs downwards over the group of strings.