Cavatina (Deer Hunter) Music by Stanley Myers (1930-1993)
Transcribe by John Christopher Williams (1941-)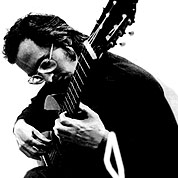 John Christopher Williams is an Australian classical guitarist, and a long-term resident of the United Kingdom. In 1973, he shared a Grammy Award win in the 'Best Chamber Music Performance' category with Julian Bream for Julian and John.



Notes
3/4 Standard Tuning. 67 Total Bars. Play slowly. You will need to be precise in landing all chords.
Bar[5] Hold the barre chord on the 7th as tight as possible to double suspend the bass and treble note (High and Low E). You don't have to land all (LH) fingers all at once, sometimes it's better to land the fingers one by one to form the chord. This barre chord is a source of frustration for many guitarists-including myself. I have read forums regarding this particular barre chord, here's a forum about cavatina's barre chord in measure 5. It's deadly, but once you get pass this, the rest is easy in comparison.
The real challenge is pressing way down on the barre chord to produce a clear, non buzzing sound on the D string. Keep practicing your left hand grip with your index and the thumb behind the neck.
Bar[41]-[45] longest span of barred chords. A dark sounding series of arpeggios and some tight fingering chords.
Guitar Pro Playthrough