Caprice No.24 by Niccolo Paganini (1782-1840)
Intermediate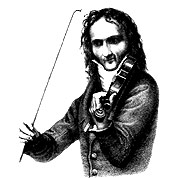 Niccolò Paganini was an Italian violinist, violist, guitarist, and composer. He was one of the most celebrated violin virtuosi of his time, and left his mark as one of the pillars of modern violin technique. Caprice No. 24 in A minor is the final caprice of Niccolò Paganini's 24 Caprices, and a famous work for solo violin. The caprice, in the key of A minor, consists of a theme, 11 variations, and a finale. His 24 Caprices were probably composed in 1807, while he was in the service of the Baciocchi court.



Notes
Classical era. 36 bars. Slurs and pull off. 2 variations. No Barre Chords. Key of Am. 2/4 Time Signature. Check out the full version with 12 variations plus finale (arranged by John Williams).
Caprice No. 24 is widely considered one of the most difficult pieces ever written for the solo violin. It requires many highly advanced techniques such as parallel octaves and rapid shifting covering many intervals, extremely fast scales and arpeggios including minor scales, left hand pizzicato, high positions, and quick string crossings. Also, there are many double stops, including thirds and tenths.