Caprice No.24 by Nicolo Paganini (1782-1840)
Intermediate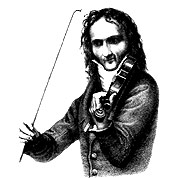 Niccolò Paganini was an Italian violinist, violist, guitarist, and composer. He was one of the most celebrated violin virtuosi of his time, and left his mark as one of the pillars of modern violin technique.


Notes
Classical era. 36 bars. Slurs and pull off. 2 variations. No Barre Chords. Key of Am. 2/4 Time Signature.