BWV 996 Allemande by Johann Sebastian Bach (1685-1750)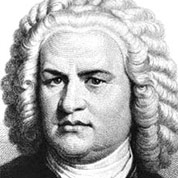 Johann Sebastian Bach was a German composer, organist, harpsichordist, violist, and violinist whose sacred and secular works for choir, orchestra, and solo instruments drew together the strands of the Baroque period and brought it to its ultimate maturity.




Notes
Baroque Era. 21 Measures. 3 Pages. 4/4 Time Signature. Key of Am. 2 part.
If you're thinking of playing this one, listen to Segovia's recording first. I'm not a student of Classical guitar, so all of my fingerings are guesses based on what I hear on the recording and reproducing the sound on my own guitar. Segovia gets a fat sounding tone from having fingers like bananas, but I think there is a lot of rest-stroking going on here also.
Guitar Pro Playthrough