Song BWV119 Polonaise by Johann Sebastian Bach (1685-1750)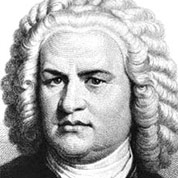 Johann Sebastian Bach was a German composer, organist, harpsichordist, violist, and violinist whose sacred and secular works for choir, orchestra, and solo instruments drew together the strands of the Baroque period and brought it to its ultimate maturity.
The polonaise originated at the Polish court in the 17th century as a supplement to festive processions. It is a dignified, stately and ceremonious dance of moderate tempo, often with a heroic or triumphal quality. The original of this work is for harpischord and is in the key of G minor. The tab is in A minor with easier finger positions provided the left hand fingering is followed closely.





Notes
Taken from Anna Magdalena's Notebook. Not a lengthy tune with only 17 bars and not hard to play with only one half barred chord on the 3 fret. Play at a Moderate tempo. In the key of A minor. Time Signature 3/4. The parallel phrase in measures 11-12 and 13-14 should be played alternately loud (forte) then soft (piano).