BWV1002 Sarabande by Johann Sebastian Bach (1685-1750)
Time 2:47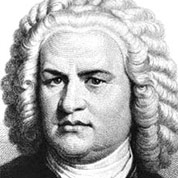 Johann Sebastian Bach was a German composer, organist, harpsichordist, violist, and violinist whose sacred and secular works for choir, orchestra, and solo instruments drew together the strands of the Baroque period and brought it to its ultimate maturity.



Notes
The Sonatas and Partitas for solo violin (BWV 1001–1006) are a set of six works composed by Johann Sebastian Bach. They consist of three sonatas da chiesa, in four movements, and three partitas, in dance-form movements. The set was completed by 1720, but was only published in 1802 by Nicolaus Simrock in Bonn. Even after publication, it was largely ignored until the celebrated violinist Josef Joachim started performing these works. The pieces often served as an archetype for solo violin pieces for the following generations of composers. BWV1002 Sarabande (Violin Partita No 1 in B minor) is a slow tempo tune. It is not very long with 32 bars. This tune is all left hand (chords) and notes must be held as long as possible.
Partita No. 1 in B minor, BWV 1002
1. Allemanda – Double
2. Corrente – Double (Presto)
3. Sarabande – Double
4. Tempo di Borea – Double
This partita substitutes a Bourrée (marked Tempo di Borea) for the gigue, and each movement is followed by variations called double in French.
Play slowly. 3/4 Time Signature. Standard Tuning.
Play both parts twice (AABB). 32 measures.
Hold notes are long as possible to fill the void. All chords are plucked. Do not strum. No sliding notes as well.
Bar[19] A left hand stretch. Index on 6th string 3 fret(G) while pinky on 1 string 7 fret(B). Turn your wrist towards you at a diagonal angle.
Bar[21] has a faster semi quaver. Pay attention to the right hand.
Bar[25] Trio of chords. You can barre these if you like. I prefer not to.
Guitar Pro Playthrough