BWV 847 Fugue 2 in C Minor by Johann Sebastian Bach (1685-1750)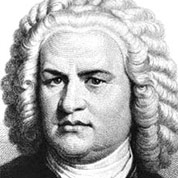 Johann Sebastian Bach was a German composer, organist, harpsichordist, violist, and violinist whose sacred and secular works for choir, orchestra, and solo instruments drew together the strands of the Baroque period and brought it to its ultimate maturity.



Notes
Baroque Era. Standard Tunung. 4/4 time signature. Transposed to key of A Minor. 4 pages 31 bars. Tabbed by weed.
The fugue is 31 bars long, and is written for 3 voices. Just like most fugues in the baroque period, the subject is then repeated in the top voice in the dominant key (G minor), and then repeated once more in the lowest voice, again in the home key. The fugue then continues with a development, and then another repetition of the subject in the home key. Just like the prelude, the fugue ends with a picardy third.