BWV 825 Sarabande by Johann Sebastian Bach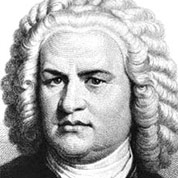 Johann Sebastian Bach was a German composer, organist, harpsichordist, violist, and violinist whose sacred and secular works for choir, orchestra, and solo instruments drew together the strands of the Baroque period and brought it to its ultimate maturity.



Notes
The Sarabande is a slow and stately dance in triple meter and with a strong accent on the second beat. It evolved from zarabanda, a stately dance from 16th century Mexico. The zarabanda was in a faster tempo than a sarabande and was sometimes accompanied by castanets and guitar. It was also wildly erotic and so sexually suggestive that its performance was outlawed. Person caught dancing the zarabanda were punished or even exiled.
Baroque Era. 28 Measures. 4 Pages. Time Signature 3/4. Drop D Tuning. Key of D.