BWV 1012 Sarabande by Johann Sebastian Bach (1685-1750)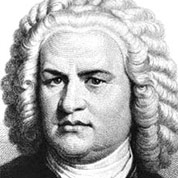 Johann Sebastian Bach was a German composer, organist, harpsichordist, violist, and violinist whose sacred and secular works for choir, orchestra, and solo instruments drew together the strands of the Baroque period and brought it to its ultimate maturity.



Notes
Bach sixth suite for unaccompanied Cello in D Major. This suite was originally composed for the violin pomposa (a violin with 5 strings), but has since been incorporated as one of the cello suites. Bach composed these masterpieces between 1717 and 1723 whole living in the city of Cothen. Together with the six somanatas and partitas for violin solo, they, without question, constitute the most monumental documents of the polyphonic string music. Unmatched in their beauty and depth of feeling, they demonstrate Bach's consummate understanding of these instrument's capabilities, and his total mastery of all the musical forms of his day. Note that this sarabande is in drop D tuning and in 3/2 time, and should be counted 1 + 2 + 3 +.
Played in 3/2 Time Signature. Drop D tuning. Key in D Major. Played Largo/Lento or Slow. Suspend notes as much notes as possible to fill the silence. As in any typical Bach's Sarabande, there are 2 parts. First part is always shorter in duration than part 2. Repeat both parts twice. Left hand song. Master the left hand finger position and the rest is easy.
Bar[10] There's a hinged barred chord in this measure. From your current chord position, flatten index finger to barre chord position and sound note.
Guitar Pro Playthrough