Branle 5 of Burgundy Adrian Le Roy (1520-1598)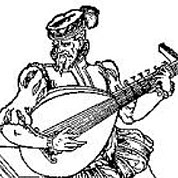 Adrian Le Roy was an influential French music publisher, lutenist, guitarist, composer and music educator. He was born in the town of Montreuil-sur-Mer in northern France to a wealthy family. Very little is actually known about his formative years but he was probably a chorister and studied the lute with various teachers.


Notes
Renaissance. from Premiere Livre de Tablature de Guitarre. 21 Measures. 2 Pages. Time Signature 2/2. Key of D. Allegro.