The Black Cockatoo (Flying Alone) by Richard Charlton (1955)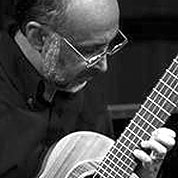 Richard is widely recognised as Australia's leading guitarist/composer. Born in the UK in 1955 he has lived in Australia since his parents emigrated in 1963. Largely self-taught he initially started writing music to expand his own repertoire, but now his works have been performed and recorded by many leading Australian and international players and feature on more than 30 CDs including labels such as ABC Classics, Naxos, Tall Poppies and Move Records.




Notes
21 century. 5 pages. 42 bars. 3/4 time signature. Andantino. Key of Em/E.
Guitar Demo ()