BWV 988 Goldberg Variations 3 (Canone all'Unisono) by Johann Sebastian Bach (1685-1750)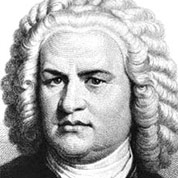 The Goldberg Variations, BWV 988, is a musical composition for keyboard by Johann Sebastian Bach, consisting of an aria and a set of 30 variations. First published in 1741, it is named after Johann Gottlieb Goldberg, who may also have been the first performer of the work.




Notes
Baroque Era. Drop D. Duet. 12/8 time signature. key of E minor. 7 pages 15 bars. Arr: Jószef Eötvös
The first of the regular canons, this is a canon at the unison: the follower begins on the same note as the leader, a bar later. As with all canons of the Goldberg Variations (except the 27th variation, canon at the ninth), there is a supporting bass line. The time signature of 12
8 and the many sets of triplets suggest a kind of a simple dance.

Piano Demo (Glenn Gould) (1981 Version)


Guitar Pro Playthrough