Ave Verum Corpus by Wolfgang Amadeus Mozart (1756-1791)
Level Beginner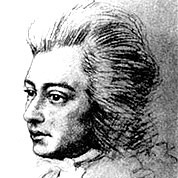 Wolfgang Amadeus Mozart was a prolific and influential composer of the Classical era. He composed over 600 works, many acknowledged as pinnacles of symphonic, concertante, chamber, piano, operatic, and choral music. He is among the most timeless classical composers.



Notes
Wolfgang Amadeus Mozart's Ave verum corpus was written for Anton Stoll (a friend of his and Joseph Haydn's) who was musical co-ordinator in the parish of Baden bei Wien, near Vienna. This setting of the Ave verum corpus text was composed to celebrate the feast of Corpus Christi and the autograph is dated 17 June 1791. Classical era. 41 Measures. 2/2 Time Signature. Easy Guitar Piece. Some Barre Chords.