Ase's Death by Edvard Grieg (1843-1907)
Level Beginner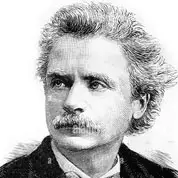 Edvard Grieg was a Norwegian composer and pianist. He is best known for his Piano Concerto in A minor, for his incidental music to Henrik Ibsen's play Peer Gynt (which includes Morning Mood and In the Hall of the Mountain King), and for his collection of piano miniatures Lyric Pieces.


Notes
27 Measures. Romantic Era. Key of E Minor. 4/4 Time Signature. Some Barre Chords. Beginner Guitar Piece.