Punto de la Habana by Julian Arcas (1832-1882)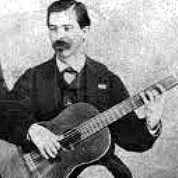 Julián Arcas was a Spanish classical guitarist and composer. Arcas was a teacher to Francisco Tárrega in Barcelona. Arcas wrote fifty two original works and transcriptioned thirty pieces for the guitar, including waltzes, variations, preludes and dances.




Notes
Romantic. Fantasía sobre el Paño o sea. 159 Measures. 8 Pages. Time Signature 3/4. Key of E minor.
Guitar Demo (Luigi Attademo)
Guitar Pro Playthrough