Musette Anh126 by Johann Sebastian Bach (1685-1750)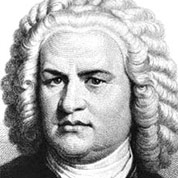 Johann Sebastian Bach was a German composer, organist, harpsichordist, violist, and violinist whose sacred and secular works for choir, orchestra, and solo instruments drew together the strands of the Baroque period and brought it to its ultimate maturity.
A musette is an instrumental piece written in imitation of the sound of the French bagpipe of the same name. Because of the instrument's rural/pastoral origins, they became popular at the courts of Louis XIV and Louis XV where a make-believe back-to-nature movement was in vogue. The bass parts of these pieces usually contain a drone in 5ths, or, in this case, ocataves. Originally for harpischord, this work is also found in the 'Anna Magdalena Notebook'





Notes
Be sure to vary either the tone color or volume (by playing more softly) on the repeats of each section. Please also note that this is drop D tuning.
This pieces comes in 2 parts. Part A: bar[1]-[8]. Part B. bar[9]-[20]. I played it AABA in the video. The full version is AABABA
You will use your right thumb a lot in this song. Up and down the string.
Have your right palm floating above the strings, and pulgar away. I have written an alternative for part A at the bottom of the tab.
bar[17], semiquavers while barring the 2nd fret throughout the measure.
Guitar Pro Playthrough