Alabama Jubilee by Edward Gerhard (1959-2009)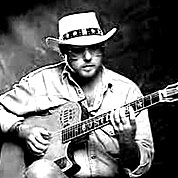 Buster B. Jones was an American guitarist specializing in the fingerpicking style. He toured often, earning the nicknames "Le Machine Gun" and "Pistola" for his fast playing style. Jones was also well known for his mentoring of young players and he appeared in 11 instructional videos demonstrating and explaining fingerstyle guitar technique.


Notes
20th century. Fingerstyle. Acoustic. 99 Measures. 7 Pages. Time Signature 2/2. Tuning. Key of G. capo 2.