Afro Cuban Lullaby by Christopher Parkening (1947-)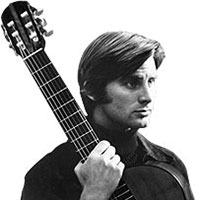 Christopher Parkening is an American classical guitarist. Parkening was introduced to the recordings of Andrés Segovia when he was 11 who encouraged Parkening to begin studying the classical guitar. By the time he was 19, he had won a number of competitions and was touring and recording extensively.


Notes
20th Century. 63 Measures. 6 Pages. Time Signature 4/4. Drop D.