A New Dawn by Al Petteway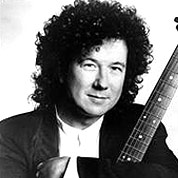 Al Petteway is a Grammy-winning American guitarist known primarily for his acoustic fingerstyle work both as a soloist and with well-known folk artists. His own compositions rely heavily on Celtic and Appalachian influences and he is known for his use of DADGAD tuning.


Notes
20th century. Fingerstyle. Acoustic. 84 Measures. 8 Pages. Time Signature 2/4. Tuning. 1-d, 6-d. key of d.