Preludio Criollo by Rodrigo Riera (1923–1999)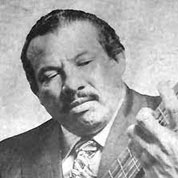 Rodrigo Riera was a Venezuelan guitarist and composer. He wrote a vital and important body of works for the guitar, inspired by and dedicated to the rich music legacy of his region in the Lara state (Capital city: Barquisimeto) in Western Venezuela, displaying a loving nationalism that led him to be associated with the work of Antonio Lauro but with a technique that is more accessible to beginners and intermediate guitar players. He was also an important educator of the classical guitar. Many guitarists active today studied with him in the 1980s and 1990s. Lastly, he had an important career as a concert guitarist, but his recordings are relatively scarce and hard to find. Hopefully the work of novel guitarists and scholars may rescue his legacy.



Notes
Latin. 148 Measures. 8 Pages. Time Signature 3/4. Key of g Minor.