Bachiana Brasileiras No 5 – Aria (Cantilena) by Heitor Villa-Lobos (1887-1959)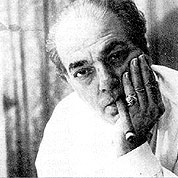 Heitor Villa-Lobos was a Brazilian composer, described as "the single most significant creative figure in 20th-century Brazilian art music". Villa-Lobos has become the best-known and most significant Latin American composer. His music was influenced by both Brazilian folk music and by stylistic elements from the European classical tradition.




Notes
The Bachianas Brasileiras constitute a series of nine suites by the Brazilian composer Heitor Villa-Lobos, written for various combinations of instruments and voices between 1930 and 1945. Brasileriras represent Brazilian folk and popular music, Bachianas is the style of Johann Sebastian Bach. Heitor Villa-Lobos' attempt to adapt a number of Baroque harmonic and contrapuntal procedures to Brazilian music. Villa-Lobos wrote many compositions in feverish haste and preferred writing new pieces to revising and correcting already completed ones. Some pieces have slips of the pen, miscalculations, impracticalities, imprecise notations, uncertainty and even impossibilities in specification of instruments. These problems remain inescapably in the current printed scores of the Bachianas. The challenge requires the performers to take unusual care to decipher what the composer actually intended.
Duet. Key: A minor. Time: 5/4, 3/4, 6/4, 4/4, 6/4, 5/4, 4/4. Tabbed by Felipe Sanges Soares. Check out the solo version of this piece (arranged by Roland Dyens).
Bachiana Brasileiras arranged for solo soprano with guitar accompaniment by Villa-Lobos. This Aria is Villa-Lobos's best-known work of the Bachiana Brasileiras. Aria is a single voice that is accompanied by the guitar. I have seen this piece accompanied by operatic vocal, flute, and the violin. This piece is so great, it sounds beautiful no matter what instrument portrays it.

Guitar Pro Playthrough
Bachiana Brasileiras
has an interesting concept of mixing bach and brazilian music. The guitar part on it's own is beautiful and not as demanding as other Villa Lobos' work. Yes, there are a lot of chords but technically it's easier compared to his 12 etudes. If you want to get into Heitor Villa-Lobos' world, I would recommend this one. This piece is to be played
ABA
. The
time signature changes
frequently: 5/4, 3/4, 6/4, 4/4, 6/4, 5/4, 4/4. I have never come across a piece with so many time changes!