About the Author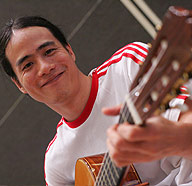 Hi, my name is Christian Liang, the founder of this blog. I am a web programmer by trade and a part time guitar teacher. I am a TCK or third culture kid. I have lived in 5 countries (London, Hong Kong, Malaysia, Singapore, and New York) before I turned 17. My ethnicity is Chinese and i currently live in Malaysia. I am in my mid 30s and I have been playing guitar for over 20 years. I have had one month of formal class at age 11 and from there began playing rock songs. At that time, in the 80s, i was playing power chords of Metallica, Nirvana and Sonic Youth to name a few. That all changed when I heard Bach.
How Classical Guitar Changed My Life
I have always love playing the guitar but I was never really into the 'band' thing. Firstly, I cannot sing to save my life. The beauty of classical guitar music is that it is a solo instrument where a player does not necessarily have to sing to express him/herself. Classical guitar is also a complete instrument-like piano-in that there's bass and treble. We all know how wonderful the classical guitar is so I will move on.
How Classclef Came About
As mentioned, I started with 80s music in my early teens. The books i was reading were not really books but guitar magazines which featured tablatures. I started to read tabs and developed my guitar playing-without ever reading a single note. Later, as i got deeper into classical guitar-and with the arrival of the internet-I started visiting websites for tabs like my friend Weed's classtab.org. After many years of playing tabs, my guitar playing improved but my music theory remains stagnant. So I decided to make a change and purchased several guitar books (notes with no tab) and some theory books to learn how to read standard notations. Using guitar pro, I then reversed engineered notes to tab. I spent a great deal of time doing this and after some time, I have made 800 or so standard notations from various composers. In addition, I have an extensive collection of guitar pro files collected from the web over the years which I convert to sheet music and midi for anyone's perusal. All this can be found right here on classclef.com.
What Can You Get Out of Classclef?
Classclef.com gives out Standard notation, tablature, midi and guitar pro file for FREE. I am not asking for money nor fame, it simply makes me feel good to blog about guitar music. This is a hobby of mine which I enjoy immensely and if it helps fellow guitarists globally, why not? For those interested, I have a youtube channel that features me playing some classical pieces. I am an average player at best and now I have a daughter, Chloe, I find less time performing. My free time now is solely devoted to classclef.com. Should you need to contact me, my email is christian.liang@gmail.com. Lastly if you have facebook, please click on the "Like" button on the right side bar of this site or visit the fanpage. Thank You!